1.Plastic: Compact powder cases made of plastic are lightweight and durable. They can also be produced in various colors and designs, making them popular for mass-market cosmetic products.
2.Metal: Compact powder cases made of metal, such as aluminum or tin, are sturdy and long-lasting. They can be decorated with embossed designs, giving them a more luxurious and premium feel.
3.Glass: Glass compact powder cases are elegant and offer a high-end look and feel. They are typically more fragile than plastic or metal cases and require careful handling.
4.Ceramic: Compact powder cases made of ceramic are known for their durability and aesthetic appeal. They can be glazed in a variety of colors and patterns, making them a popular choice for premium cosmetic brands.
5.Natural materials: Some compact powder cases are made from natural materials such as bamboo, wood, or cork. These materials are eco-friendly and offer a more natural look and feel.
6.Combination: Some compact powder cases may combine two or more materials, such as a plastic base with a metal lid or a glass base with a plastic rim. This allows for a combination of durability, design, and functionality.
The choice of material will depend on factors such as cost, aesthetics, durability, and environmental considerations.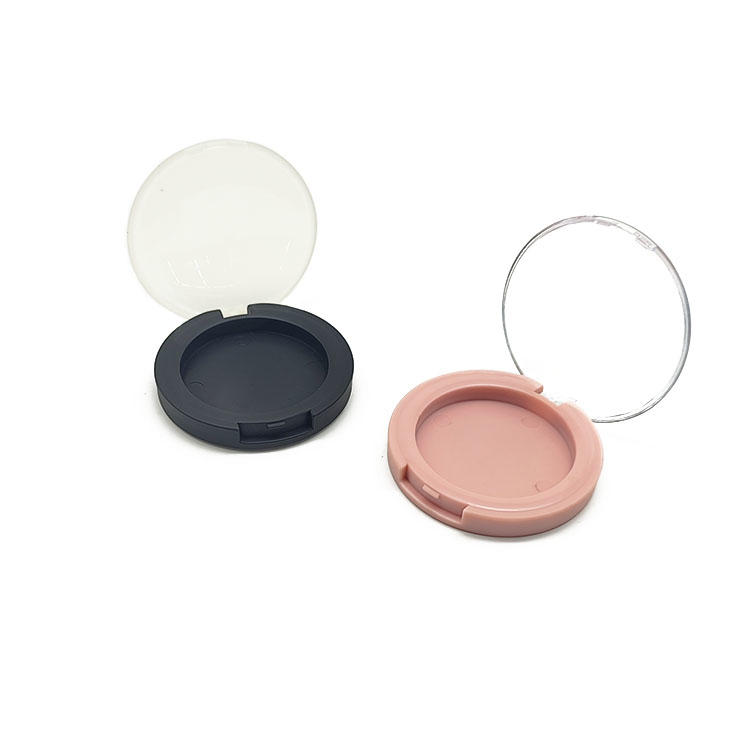 In response to the implementation of the national plastic restriction order,Weili designs a powder case with monochrome compact round arc transparent cap and visual layers for widely used in highlights and blush. The round arc shape shows the beauty of mechanics. The case is small and light, with a comfortable grip when placed in the palm of the hand. Environmental friendly material powder case, environmentally friendly eye shadow palette is available, which is convenient to carry out. The product can make arbitrary color conversion, adopting vacuum electroplating, water electroplating, spraying feel paint, temperature feeling paint and so on!