Empty eyeshadow containers
can be reused in a variety of ways to create new and customized makeup products. Here are some ideas on how to reuse empty eyeshadow containers:
1.Create your own custom eyeshadow palette: Use a clean, empty eyeshadow container to mix and store your own custom blend of eyeshadow shades. You can either use leftover eyeshadow pigments or mix your own shades using loose powder eyeshadows.
2.Make your own cream eyeshadow: Empty eyeshadow containers can also be used to make your own cream eyeshadows. Simply fill the container with a cream eyeshadow base and mix in your desired pigments.
3.Store small items: Empty eyeshadow containers are the perfect size to store small items such as bobby pins, hair ties, and jewelry.
4.Create a custom lip color: Mix your own lip color using a lip balm or gloss base and your desired pigments. Fill an empty eyeshadow container with your custom blend and apply with a lip brush.
5.Store loose glitter: Keep loose glitter contained by storing it in an empty eyeshadow container. This will make it easier to apply and minimize mess.
6.Use as a travel container: Empty eyeshadow containers are the perfect size to store small amounts of your favorite skincare products, such as moisturizer or eye cream, for travel.
7.Create your own brow powder: Mix together a brow powder using a matte eyeshadow and fill an empty eyeshadow container with the blend. Use an angled brush to apply the powder to your brows for a natural-looking finish.
8.Store small amounts of loose powder: If you have a loose powder product that you only use occasionally, transfer a small amount into an empty eyeshadow container for easier storage and application.
Remember to clean your empty eyeshadow container thoroughly before reusing it to ensure that there is no remaining makeup residue. With these ideas, you can get creative and make the most out of your empty eyeshadow containers while reducing waste in the process.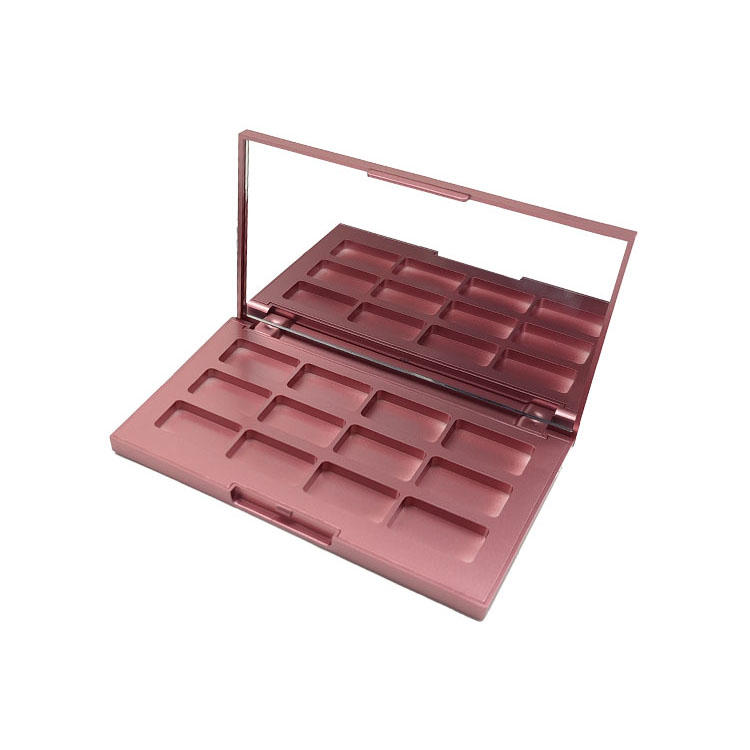 The Y471 sixteen-color European and American style large capacity eye shadow palette is one of the products developed by Weili in recent years. The inner plate has 16 grids, which is enough to place rich eye shadow colors to meet all needs of daily and banquet makeup.