A
compact powder case
is a small, portable container designed to hold and dispense compact powder, also known as pressed powder. It typically consists of a compact mirror and a compartment containing the powder, which is pressed into a solid cake. The case usually has a hinged lid that opens to reveal the mirror and powder, and a closure mechanism to keep the lid securely shut when not in use. Compact powder cases are commonly used in makeup application to touch up and mattify the face throughout the day. They come in various shapes, sizes, and designs, and can be made from materials such as plastic, metal, or glass.
Here are the general steps to follow:
1.Open the compact powder case: Most compact powder cases have a hinged lid that you can open easily.
2.Use the applicator: Use the included sponge applicator or a brush to pick up some powder. Tap off any excess powder before applying to your face.
3.Apply the powder: Use the sponge or brush to apply the powder to your face. You can use a swirling or dabbing motion to apply the powder evenly. Focus on areas that tend to get oily or shiny, such as the T-zone (forehead, nose, and chin).
4.Blend well: Blend the powder well to ensure an even, natural-looking finish.
5.Close the compact powder case: Close the lid securely to keep the powder safe and clean.
6.Touch up as needed: You can use the compact powder case throughout the day to touch up your makeup, especially if you have oily skin or sweat a lot.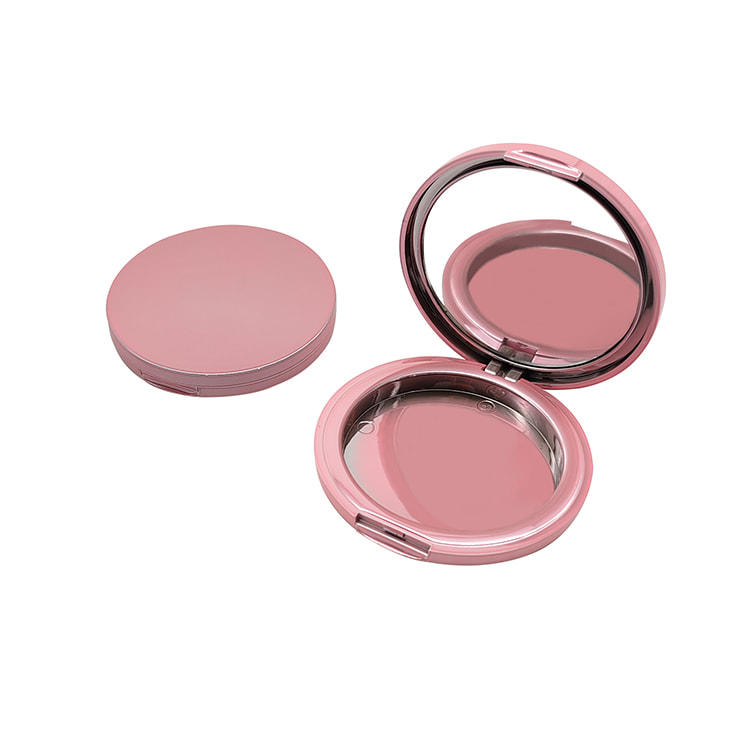 lassic round powder case can be equipped with a mirror, or it can make transparent cap. It is convenient to makeup whether at home or outdoor with a mirror, while the transparent cap can be attached with some printing patterns so that the product and the pattern are compatible. In this way it can not only attract customers' attention, but also make customers quickly understand the products.